As a business owner, when you are choosing lead distribution software for use in your business, you must consider the quality of the software, and the types of leads it is capable of generating and distributing to your sales team.
The best software will be capable of generating all sorts of leads for all types of verticals. Some leads pick up the phone and call your company for information on your products, while others may seek information online. Whatever methods you use to generate leads and whatever system you use for storing their details it is vital that your lead distribution software can classify these leads in the order of priority, as to how interested they are in the product line or services that your business sells.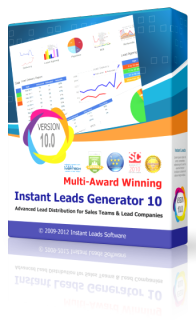 By finding good lead distribution software which classifies each lead in order of priority, will ensure that your sales team is always contacting and following up with those people who are most interested in your products and services. It also ensures that your sales people are not wasting time focussing on contacting those who have no real interest in your company's services.
With the right lead distribution software in place, sales personnel can forget about cold calling, and getting multiple rejections each day on the product which they are trying to sell. Since the software is going to categorise those leads who are most interested, and those that are actually reaching out to your business, your sales people are far more likely to close more deals and avoid valuable time being wasted following up with those that are not really hot prospects at all.

Also, rather than purchasing poor quality leads that have been sold several times and are already getting stale, generating your own leads or purchasing exclusive leads always gives the best return on investment. This always gives far better results compared to constant cold calling to mainly disinterested individuals.
By only using reputable lead sources and by using the best possible lead distribution software will ensure the sort of returns that the business owner is hoping for. Not only is it going to help make more sales, but it is also going to ensure that the sales staff are always going to be dealing with customers and potential clients who actually have an interest in the products and services that the business offers. Therefore, since they have an interest or need for your company's products, and since these consumers have already shown an interest by contacting your company, the lead distribution software is going to be instrumental in increasing sales and maximising the time spent on sales calls.

Rather than rely on a hunch, or hope that your sales staff is clever enough to sell something to consumers who are not interested, using the best lead distribution software is a far better option to increasing sales, and ensuring a lot more deals go on to actually close.
The result is an increase in the number of products being sold on a day to day basis, as well as improved business revenues and profits. It will also ensure that the sales staff do not become discouraged over time, since their time is focussed on closing sales with already interested prospects instead of continually being shot down by those who have no real interest at all.