Lead Generation Software Features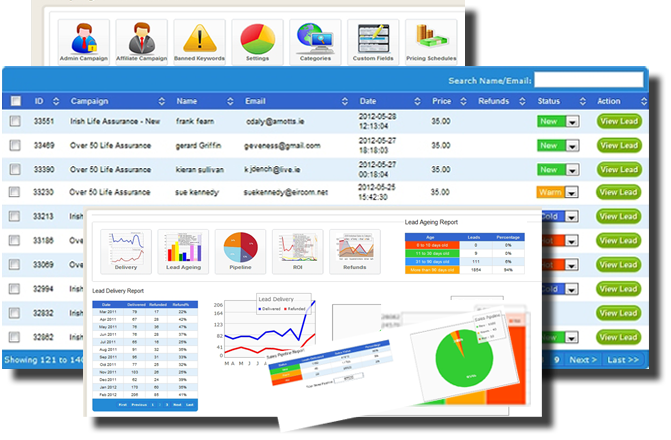 Full Access to Source Code*

When you buy our lead generation software you can have full access to alter and edit the source code in any manner you wish. This means it's fully customizable, and when you buy our lead generation software you will never have to pay usage fees or licensing fees, pay once and you own it forever!

Easy Installation

Simply upload the files to your server and login to your admin panel to customize your software to work for your specific lead distribution or lead selling needs and requirements.

Customization

Upload your logo and personalize your software to fit your company's look and feel. We don't brand our software; instead we give you full control over the system, and using our built in HTML what you see is what you get template editor; you can edit all the administration, affiliate and customer menus. Quickly adding or altering the software's code, or changing the color scheme are just a few of our software's customization abilities.
Recruit Affiliates or Do It All Yourself

With just a few clicks you can change the system from a system where you generate the leads or you can activate the CPA system to recruit affiliates to generate leads for you, you choose how much profit to share with each affiliate individually.

You can also choose to simply turn off the customer auto responder system or with the click of a button allow customers to design HTML emails that are automatically sent to the lead they purchase.

Turn on Auto Approval to allow affiliates to design lead capture pages, set prices and turn on and off their campaigns or easily take full control of your affiliate created campaigns.


Sell Leads Exclusively and/or Multiple Times

With our software you can choose to sell leads exclusively or multiple times as they age to maximize your profit potential. Ours is the only software online that allows you affiliates to share profits each time a lead is sold.

Never miss an unsold lead, our free optional unsold lead system will email you regularly and let you know if you have hot leads that have not yet been sold, allowing you to not miss out of profits by letting your leads go stale.

Full HTML Personalized Email Template System

Add remove and modify a variety of email templates and personalize the following emails with any customer, lead and system data fields you want to insert.

Built in Help System

Instant Leads Software comes with inbuilt and editable HTML help system. No more searching through manuals or browsing all over the web to find out how to use any part of our software. Now you can just click a button from within your back office and instantly use our chat system to find a solution to your problem.



In just one click you can upload files to your server, allowing you to change the look and feel of your software by simply changing any images that your system contains. This allows you to quickly customize you back office to match the design of your front end.
Bad Leads Filter

Create unlimited lead filters to clean your leads before they even get to the system. This makes sure your customers never receive leads with swear words, obvious fake phone numbers, emails from junk mail servers, add and edit at will and your leads will be always clean.

System Administration Features

Once Logged in the Reports Control Panel page gives you a complete visual overview of your major system statistics, allowing you to instantly see major statistics relating to your lead business.

Ratio Controlled Sales System *World First*

Set individual ratios for every customer on your system. Ratio control has endless uses limited only by your imagination. At the most basic settings you could set the purchase and sell prices for each customer. The lead ratio is the mark-up charged to your customers.

For Example - let's say your system has 4 Customers and you sell just one type of leads at $10 each. You can easily set the system so that...

Customer 1 has a ratio of 1.0 so would be charged $10.00
Customer 2 has a ratio of 1.5 so would be charged $15.00
Customer 3 has a ratio of 2.0 so would be charged $20.00
Customer 4 has a ratio of 0.5 so would be charged $5.00

This is just one of a virtually unlimited number of ratio based sales you can use, most Instant Leads Generator owners use this feature to sell based on account funding. So for example if someone pays $100.00 a month in subscriptions they would pay more for the same leads compared to a larger monthly subscriber paying $1000.00 who would get the same leads but at a discount.


Customer and Affiliate Registration Data

Add or Alter Registration fields in your customer and affiliate registration forms, instantly add new questions, edit or remove unneeded questions, and instantly your customer and affiliate forms will be updated and accept the new data.
Edit Companies and Countries

You can now edit your customer registration pages so that they can select from any group of company names, add, edit and modify company names right from your admin account. This feature can have many different uses, but it's most common use is to allow the non-duplicate sales of leads to people in the same lead business. As the system will otherwise sell leads multiple times to the same company.

Plus if you just sell leads to one country or just a few, you can shorten the company's field to speed up registration.
Campaign Management

The campaign management system shows you complete details on all aspects of your lead generation pages, easily review your campaigns as well as add CPA affiliate campaigns including: names, descriptions, costs, active leads generated as well as allowing you to view, manage, modify and delete any campaigns.
HTTP Posting of Leads
Leads can be posted into the system from external lead sources by http post.

Not only that, but from version 9.5 it's also possible to deliver leads to external systems by http post. This allows connection to all sort of remote 3rd party systems including posting directly into other lead distribution, lead management and CRM systems.
Assign Buyers Feature

You can set your system up so that you can sell as many types of leads as you like with the ability to individually select which campaigns are shown to which customers. This is great for many uses, hide campaign types from users not interested, release specialty campaign and only allow certain buyers access, this features is only limited by your imagination.
Upload Leads to Automatically Sell & Distribute to Customers

In just seconds you can import as many bulk leads as you like, our intuitive lead import system lets you import any lead files in any order, it automatically reviews your lead files and allows you to select what fields go where. Import up to 250,000 lead at a time.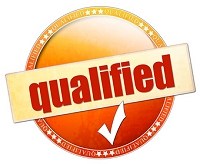 Import As Live

Our unique import as live function lets you import leads and treat each and every leads like it was just filled in live on one of your lead capture pages. This feature is great for bulk selling of leads, or to import leads that were unsold during the day.
Leads Required

Never again will you be stuck with more leads than you can sell, as our software tells you exactly how many leads your customers require today. So you can generate or import the exact amount of leads you need.
Review Your Live Generated and Imported Leads

Instantly review live leads that you have generated from your lead capture pages. Click to see complete details of the leads, where it was generated, how it was generated, what it is selling for, how often it is sold, how old it is getting and so on.

Create Pricing Schedules

Here is where you can create designer algorithms to sell your leads via specific price schedules. Easily change the price of the leads you sell based on many factors - Sell by age, times sold, (reduce lead cost as it ages) or even by specific searches (i.e. increase cost of leads if a customer searches for leads by a specific state. This feature is truly unique and limited only by your imagination. A detailed video tutorials available in our video tutorials page and explains in detail all the unique benefits of selling by designer pricing schedules.

Affiliate Reporting System

You will never lose track of what is happening with your affiliates with our details affiliate analysis reporting. View the performance of your affiliates activities in real time, search for affiliate's, check on their earnings and instantly see who your top earners are.


Customer Reporting System

Create detailed live reports of your customers with our customer analysis reporting system. View the spending habits of your customers in real time, search for customers, check on how much they are spending and instantly see who your top customers truly are.


Lead Activity Reports

Live reporting of your live and aged lead activities, get reports and sort by ID number, lead name, what affiliate generated it , the URL where the lead was generated, from what campaign it was generated, the leads email, city, state, if it has been refunded, who purchased it, the profit it has made so far, and if it is still a valid lead.
Pending and Past Refunds Reports

With our pending refunds reports area you can quickly view the customers who are requesting a refund for an invalid lead, process requests and check for refund fraud (customers who are requesting excessive refunds) and much more.

Customer Back Office Features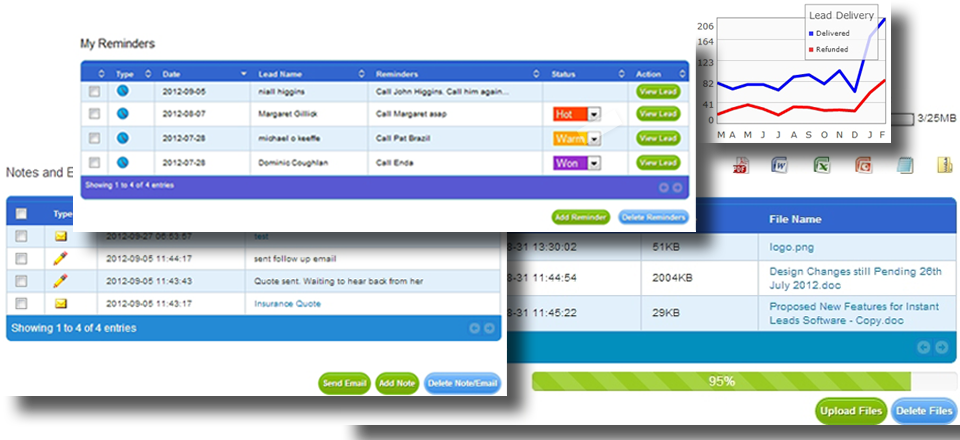 Instant Leads is a complete Sales Lead Management System, with all your lead buyers getting the following features:
Customer's Statistics Page

When you customer first login into their back office they see a stats page, showing them the status of their account, and allowing them to add funds, pause their account.
Customer Campaigns Selection

Here your customers can select from all the lead campaigns you are running, picking and choosing which real time leads they wish to purchase. They can subscribe and unsubscribe anytime, and select how many lead they want at most each day for each campaign.
Each campaign also allows them to enter a personalized auto-responder message that is immediately sent to the live lead they purchase. Here they can also select exact match questions, where in order to receive a lead the lead must select specific questions. For example a customer may only want leads from a certain state, or leads that have selected


Refunds for Invalid Leads

As an Administrator you have the option to give a percentage based overage to counteract the usual invalid leads that come from most lead forms, or you can allow customers to simply request a refund on a lead by lead basis. Customers simply select the lead(s) that were invalid and type a short description of why they are requesting a refund. Then you can choose to allow the refund or refuse it, as well as having the optionof typing a short reply explaining your decision.
Customer Lead Viewing

Unlike almost all other lead selling software, Instant Leads has the option of showing your customers more details of where the lead came from and how it was generated. Sell more leads with customers having the reassurance that your company is honest and open about its lead generation practices.
Aged Leads Search and Buy

Your customers don't just have to wait for live leads; they can also buy lead on demand anytime they need them. With our unique pricing system you can sell or resell leads over and over again, giving your customers the ability to search and display only the leads that match their specific needs, then in one click they can select and purchase the leads. You an even increase the price of leads that are targeted, so for example you could add 20% to the current lead cost if the customer wants to search for leads in a specific state. The pricing is truly limited only by your imagination, as you can enter hundreds of pricing requirements to get the highest cost for your aged leads.


User Payment Review

Here your customers can review all the payments they have made, the leads they have purchase and refunds they have received.

Affiliate Back Office Features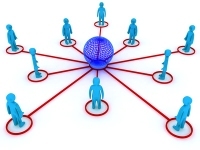 Profile Review/Update

Let's your customers update and alter their details, change their password etc.



Affiliate Based Lead Generation

Instant Leads offers you the unique ability to become a CPA powerhouse, linking lead generators and lead buyers and becoming a pure lead broker, no matter how many leads are generated or purchased, you can take a percentage of the profits!
Having Affiliates is completely optional, as you can take 100% control of your lead generation by simply generating your own leads and but if you choose to use it you can allow affiliate create their own campaigns (lead capture pages) let them advertise their associated lead capture pages and you make money each time a customer buys their leads.
Campaign Management

Here your affiliates can fully customize their own campaigns and even set their own price for the leads they generate, allowing your customers to pick from all available campaigns. Your affiliates can download the generated templates and advertise them as you instruct and when leads are generated the system will credit the affiliate if and when each lead sells.

The campaign manager used by both system administrators and registered affiliates and has a huge amount of features not just in the design of lead capture pages but also allowing detailed pricing structures for the leads these pages will generate. Please use our contact form and a sales manager will happily give you a complete tour of the back office, it's the fastest way to discover all the advantages our software has to offer.

Affiliates have many choices to manage their accounts including: Create and edit campaigns
Add/Edit Campaign Question, View/Select Lead Forms HTML code, View your lead capture pages
Profit Reports

Your affiliates can log into their back office and review their profits in real time. They can see how much they made on the sale of a live leads, how much they made on an aged leads and how much the next sale of that lead will make them.

Profile Review/Update

Let's your customers update and alter their details anytime.

Lead Generation Software Awards
Instant Leads Generator is award wining software.
The awards received including the following:
* there is an additional fee for making the full source code available.