Instant Leads - Lead Distribution Software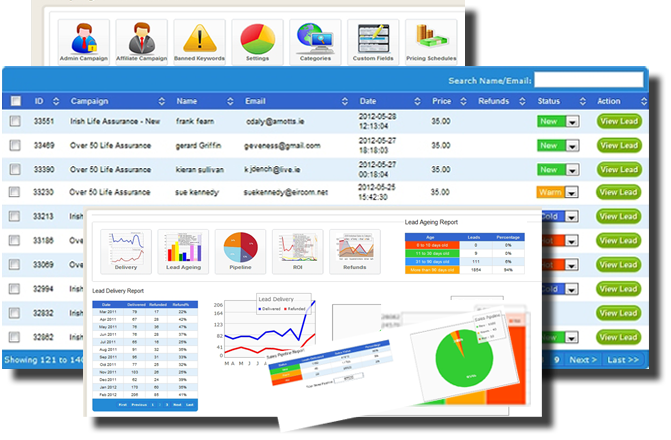 Generate All Lead Types

Lead Distribution System
Generate & Distribute Live & Aged Leads

Import & Distribute Leads in Bulk

Recruit Affiliates to Generate Leads

Automatically Generate Lead Capture Forms

Deliver Leads Automatically in Real Time

Built-in Email Autoresponders

Automatic Lead Filters Delivers Highly Targeted Leads

Sells Leads Instantly

Sells Live & Aged Leads on Autopilot

Unique Lead Cherry Picker System

Create Multiple Price Schedules

Change Lead Prices as They Age

Price Leads Based on Data Entered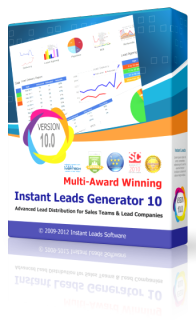 ---
Why choose Instant Lead Distribution Software?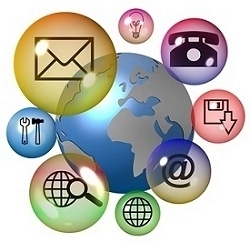 Instant Leads has won over 70 different software awards, and offers the most powerful lead generation, and lead distribution systems available today.
This award winning lead delivery software is available at surprisingly cost. Instant Leads will allow you to capture leads, filter leads, sell leads and deliver lead on complete autopilot.
A unique system that helps you generate, deliver, and sell any form of lead you can imagine, and totally automatically!. No other lead delivery software comes even close to it's rich feature set or ease of use. It is the most effective sales lead management software available, and is suited to all businesses who need to generate and distribute live leads and leads in bulk.



Instant Leads uses a totally web based interface, that is accessible through any web browser; including hand held devices, such as the iPhone. It enables sales teams of any size, to automatically respond to each lead the moment they arrive in the system.



Our lead distribution system enables you to deliver leads automatically to each and every member of your sales team. You can also sell unwanted leads (if you wish) to lead buyers. Each and every lead campaign you setup in the system can deliver leads on either a round robin exclusive basis, or leads can be delivered simultaneously to multiple users.

You can also allocate certain types of campaigns to specific users, while hiding other campaigns from them. With every campaign, you can also set exact lead criteria for each recipient, ensuring that that only leads that are workable for them are actually distributed to them.



For every businesses that needs quality low cost lead distribution software, and that needs to deliver leads automatically Instant Leads will deliver leads to your sales teams, fast and efficiently. It is a leads delivery platform includes virtually every feature you could ever wish for, and it's lightening fast!
Distribute Leads in Real Time!
Unlike other software systems, Instant leads allows you to generate every lead type imaginable, and distribute and manage those leads automatically to as many recipients as you like.

The software itself generates the lead capture forms, which can be placed on as many web sites as you wish. Your lead capture pages then feed the system with leads, and are distributed automatically to your recipients on either an exclusive or non-exclusive basis.

The simple easy to use web based interface enables your recipients to take control of their leads, for maximum success. They can even setup an automated email message, which is delivered to each of their leads; allowing them to introduce themselves, ensuring their leads never go cold!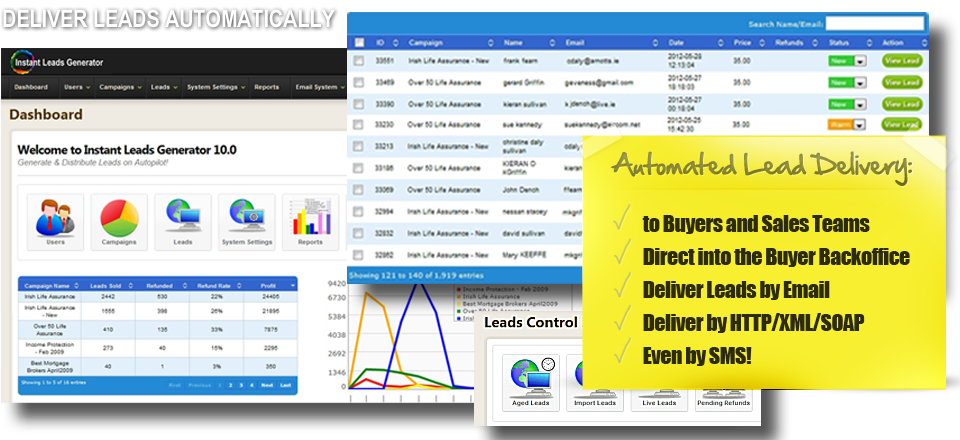 Instant Leads is a complex, yet easy to use lead distribution software solution. It's not just a lead distribution tool; rather it's a full lead software system enabling you automatically run your lead generation, lead filtering, and lead distribution on full autopilot, for maximum conversions and profitability.

Features include:

Built -in Affiliate System - create a campaign and assign it to multiple affiliates, who can generate leads for you, or do it all yourself

Time Zones - set the time zone for your entire system

Customize Automated Emails - for lead recipients and leads

Easy Installation - on most modern servers

No Monthly Fees - huge savings

Easy to Learn - built-in help system and video tutorials

Customizable User Interface - create you own unique branded look and feel

Unlimited Campaigns & Lead Types - generate and distribute leads in as many niches as you like

Live and Imported Leads - generate live leads on websites, import leads from CSV files, or even receive leads by http post from other lead companies and sell them instantly (or through the cherry picker)!

Multiple Modes of Lead Delivery - deliver leads by email, through the back office, by HTTP Post, even by SMS (using an email to SMS service)

Flexible Lead Delivery - distribute leads exclusively or multiple times, and on the days and times you specify for each recipient

Flexible Lead Pricing - dozens of ways to price leads. You can even deliver then at no cost to your own sales team

Reporting & Lead Exports - get up to date information on all your clients and lead sales, and export leads from any campaign to a csv file

Lead Refunds - allows your buyers to return leads to admin for refund. Approving or denying a refund only takes a moment

Cherry Picker System - you can sell leads live or through the cherry picker system (or both!). Enables you to sell leads that are aged

Multiple Funding Methods - lead buyers can fund their accounts by PayPal, credit card, wire, or cash

Ping Tree Bidding System - as well as round robin delivery, you can also activate the bidding system where buyers bid against each other, for even greater profits!

Exact Match Zip Codes - lead buyers can enter a list of zip codes and only get leads from those zip codes. Supports both digits and numbers or both (like UK post codes)
and many more...
CLICK HERE to see a full feature list
Dozens of Awards for Software Excellence
Instant Leads Generator is award wining software. Awards received include the following:

Thank you for everything you have done, your help with everything has been great. After I have watched all the training videos and get this rolling we will talk about customizing some of the programming and adding some features.

You guys really are awesome and if you need any type of testimonials or references please feel free to utilize me.

Thank you,


Jason Palmer
BestLeadShop.com