Lead Generation Software Reviews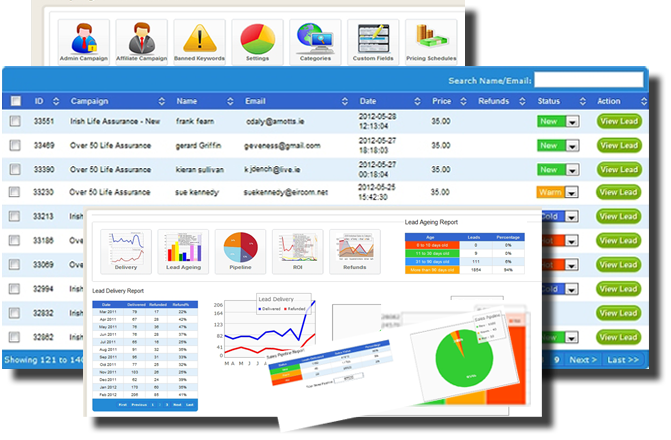 We could just blow our own trumpets and tell you what wonderful software Instant Leads Generator is.
But if we did that, you probably wouldn't believe us anyway!
Instead, we felt it would be much better to let some of our clients tell you about their experiences in their own words.
Here's What Our Customers Are Saying...

"BEST LEAD DISTRIBUTION SOFTWARE WE HAVE EVER USED"
Version: Instant Leads Generator 9.0
Purchased Date: March 01, 2010

Pros
We have found Instant Leads Generator 9.0 to be an absolute pleasure to use. Having used AIM CRM and LeadExec in the past, we were amazed at how powerful, fast and cheap Instant Leads was.

At first we were very sceptical (as both the other systems were expensive and had significant limitations), and we did not expect much, but the low cost made it worth testing.

I'm delighted to say that Instant Leads lets us generate, distribute and sell loads of different types of leads to all our clients, and works like a dream. As a result we cancelled our subscriptions to the other services, which don't even come close to what this software can do.

I understand that the Instant Leads company was bought from it's original Australian owner in November 2009, and as a result we have found their tech support very helpful, and we generally get instant replies to our questions. However, since the software comes with a full video based software manual, everything is easy to understand.
Cons
There really are very few drawbacks to the software. We own several businesses and one of them is a lead generation service. This means we have used other similar products.

There is a small learning curve, but this is taken care of by watching the video manual that covers pretty much everything.

At first we just dived into the setup without understanding what we were doing, then we got a bit confused, and had to consult the manual.

Once we watched the videos we were back on track again and everything makes sense.

Strong recommendation: watch the training videos first!
Overall
I and my colleagues are totally in love with this software. it does far more than other similar systems and has a lot more features.

We also got some custom programming done and added a couple of new features. Since the software can be developed further you can pretty much build into it any sort of functionality you may need. However, having said that I feel that most users have all the tools they need to generate, filter, and sell/distribute leads to lots of users.

I'm a total advocate of this tool, if you hadn't already guessed :)
Radovan Dzurcanin
Partner, CSG Corporate Solutions
April 14, 2010
---
"SURPRISINGLY GOOD LEAD DISTRIBUTION SYSTEM (AND SELLING)"

Version Info: Instant Leads Generator 8.0
Purchased Date: March 01, 2008


Pros
We bought this software almost 2 years ago. At first there were some bugs that prevented us from being able to filter leads they way our customers needed. However, after some weeks the programmers fixed the problem, and to be honest ever since we and our many leads clients (mainly mortgage brokers and insurance brokers) have totally loved the system.

It's so easy to setup new lead campaigns, create lead capture forms, and setup filters so that clients only get the sort of leads they want.

The software is also very fast; even with cheap shared hosting with GoDaddy.

We have grown into a very big lead company with many many clients on all continents, all thanks to this beautiful very low cost lead distribution and selling system.
Cons
There were bugs at first which were frustrating, but the software was fixed and the company's programmers transformed the system into the best lead system we have ever used; and we have used all the most well known systems available.
Overall
Very highly recommended. Easy to use, fast, flexible and very reliable. If you have a leads business or are considering starting one then Instant Leads is the best system out there; we have tried the 3 most well known competitors systems and have been sorely disappointed. Those systems were expensive and very limited in many ways. I wish we had found Instant Leads first!
J Christian
Business Development Manager, Mortgage Leads Factory
November 21, 2009
---
"AMAZING FUNCTIONALITY WITH THIS LEAD GENERATION SYSTEM"

Version: Instant Leads Generator 8.4
Purchased Date: August 01, 2009


Pros
Extremely low priced, quick setup and branding ability, open source allowed us to edit anything we needed.
Cons
Support hours are from 4am-11am CST as it is an Australian Company.
Please Note: The Instant Leads business was bought from it's original Australian owner in November 2010. As a result, tech support has improved immensely!
Overall
I highly recommend it. The next best software we compared with this costs $25,000.
Purchasing officer, Commonwealth Bank Group
September 05, 2009
---
"I HIGHLY RECOMMEND THIS SOFTWARE FOR ANYONE WHO NEEDS TO GENERATE AND SELL THEIR OWN LEADS... "

Version Info: Instant Leads Generator 7.0
Purchased Date: July 01, 2008

Pros
Massive feature selection.
Cost much less than other similar systems.
Ability to sell and deliver leads to clients based on what the leads select on the lead form.
Love the fact I can import aged leads and instantly deliver them as if they were live leads.
Customizable (i.e we don't have to have the software's brand name all over our back office).

Cons
Company is located in Australia, so phone support hours can sometimes be inconvenient, but they are usually available until 11am so it's not so bad for us.
Please Note: The Instant Leads business was bought from it's original owner Australian in November 2010. As a result, tech support has improved immensely!
Overall
I highly recommend this software for anyone who needs to generate and sell their own leads, we have used a few different lead generation software over the last 3 years, but until we purchased Instant Leads software we had to use numerous products to run our system, now we can do everything needed with just this one software package.
Purchasing officer, Mortgage Brokers International
August 27, 2008
---
"MADE MY LIFE EASIER AND MY BUSINESS MORE PROFITABLE"

Version: Instant Leads Generator 9.0
Purchased Date: January 05, 2010


I am Hendrik Rommens, from Belgium. I started in February 2009 with an idea that changed my life. I discovered that there was a great need on a lead generation site for consumers in Belgian looking for an installer of solar panels. I started with a Joomla site and some forms that sent mails to my connected suppliers. That went automatically.. I was pride !
Each month I did an export of these leads and manually performed the invoice. That was a hell of a job. I had to check whether they really received the lead, if it was a wrong lead I had to credit them. I spent 10 days per month on Billing issues only !
I am full of new ideas, but I couldn't put them into reality because I stumbled upon my technical knowledge and the fact that the manual handling was too high to manage extra sites.
I requested some quotes to get it developed at Joomlancers and other sites. Some prices went up to 5000 USD, and nobody understood my real needs.
Than I found Instant Leads in December 2009 . I couldn't believe my eyes… In fact the content of my requirements for which I requested a quote at joomlancers was exactly what this application does and beyond !
There is someone that created this application. I requested a demo and I was like a kid in a toyshop ! All that features. Especially the prepaid part and the cost answers were things that opened up my eyes.
When I saw there was someone online at Live Support I immediately clicked and I had a very nice conversion with Mike. Finally I found someone who understood my needs. He and his team of developers are very helpful, and from the bottom of my heart I want to thank him for this application.
Overall
I went in production for 1 site on Monday 1 March and I already earned back my investment in 2 days with the payments of my buyers!
I want to thank Google for finding Instant Leads. Thanks to Mike and his team I can now start the expansion of my lead generation sites.
Mike is open for feedback and tips on how to get the application even more powerful. If you are doubting on starting a lead generation website, stop doubting and get this application. Take some time to get used to the application, watch the videos and start playing around. I translated the application into Dutch for my customers. So language can't be a border neither.
So if you have a great idea on lead generation, and you have buyers and prospects... you need this application !
Hendrik Rommens, LeadFactory.be
March 04, 2010
---

Thank You Emails
Here are some "Thank You" emails from clients, praising our service:
Thank you for everything you have done, your help with everything has been great. After I have watched all the training videos and get this rolling we will talk about customizing some of the programming and adding some features.

You guys really are awesome and if you need any type of testimonials or references please feel free to utilize me.

Thank you,


Jason Palmer
BestLeadShop.com
---
"WHO'S DA MAN DENNIS!!!! :-)

Thank you very much gentlemen. I really do appreciate it....

This looks like a great solution Mike!!! I am going to implement it tonight and give you my feedback right after...

I really appreciate your help"



Gary Demit
LeadsBucket.com
---
"Hi Dennies,

I have just had a look at the new scheduling function and must say, it looks amazing! Exactly what I envisaged!

When this is all finished, this will surely be the most powerful off-the-shelf lead software!

Thanks"



Peter Walton.
AmmLeads.co.uk
---
"Hi Mike

This is really looking great... your help is fantastic...

I am frantically trying to get the two sites built so that we can put this all together, But it would be impossible without your assistance…..

Thanks a million this is really looking great …"



Bill C Johnson Jr
CxTransport.com
---
"Hi Mike,

Thanks for your always friendly, patient and professional way of sorting out problems.

I thought I won't need this extra information, but I can see I have to work through it, as well, going through your emails and the training clips.



Thanks"



D Reiger
dewald@dr.com
---
"Mike,

I'm very pleased with the personal and attentive customer service I've received.


Thanks"



Greg Wiesmore
QualityMortgageLeads.net
---
"Hi Mike,

First, I want to thank-you for the terrific job you did with the header banner. I was just hoping/thought you may be able to place the logo on the right side.

I really appreciate you going the extra mile and doing it the right way and creating a whole new banner. It really looks great and makes me look very professional. Thank-you.

So we went live yesterday..Hooray!! I am excited to be up and running with this. After 9 years of reading leads, I'm thrilled to be automated...
thanks"

Keith Mueller
MacSupportExperts.com
---
"Dear Mike,

Thank you so much for your great help. Thanks to you I was able to check the Demo and find that your SW is the most complex and smart system as I have ever seen in that field.

I was checking the SW for a beginning Small Business company, which is not able to start using such expensive complex system but may be later they will. If they succeed and make some money I'll recommend them to switch..

Thank you again and have a nice day. Best regards"

Dr. Leos.
seznam.cz
---
"You're the best,

Thank you Mike…

Respectfully"



Verne Epstein
netSorce Communications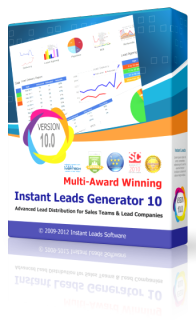 ---
Lead Generation Software Awards
Instant Leads Generator is award wining software.
The awards received including the following: